David R. Shoop
Nationally-Recognized Legal Counsel
David Shoop is a nationally recognized lawyer, having previously tried and litigated numerous, multi-million dollar cases on behalf of some of the world's largest corporations and their insurers. He now exclusively represents individual victims of personal injury, with emphasis in personal injury caused by defective products and medical devices. David Shoop is a trial lawyer that has amassed well over $100 million in verdicts and settlements in product liability and medical device cases alone, and he has numerous, multi-million dollar verdicts to his credit. These include a recent, $30 million verdict in a complex product liability case in Los Angeles County (Case No. BC 594187). Mr. Shoop has years of experience litigating matters involving defective products and medical devices and he recently secured a $14 Million aggregate settlement involving implantable, class III medical devices. Mr. Shoop is a trial lawyer who understands how insurance companies and manufacturers defend and evaluate their claims, and now he proudly puts that knowledge and experience to work for you – coupled with an unwavering will to win.
Attorney David Shoop has experience representing the following types of cases:
Products Liability
Catastrophic Personal Injury
Defective Medical Devices
Recalled Medical Devices
Industrial Machinery
Complex Litigation
Insurance Bad Faith
Commercial Litigation
Breach of Contract
General Business Litigation
Unfair Competition
Class Action
Construction Litigation
Medical and Professional Malpractice
Trial-Tested Ability & Experience
David Shoop has years of experience litigating matters involving defective products, medical devices, recalled medical devices, motor and recreational vehicles, street motorcycles, complex industrial machinery, conveyor systems and various consumer products. Such cases have included wrongful death, catastrophic personal injury, paraplegic injuries, permanent brain damage, limb amputations and severe burn injuries. In a recent, complex orthopedic injury case, the matter resolved for over over $6 million during the course of trial.
David Shoop has significant experience in product design, testing, evaluation, development, biomechanics, physiology, as well as accident reconstruction and analysis. David has further litigated numerous fire and casualty cases, and has years of experience in fire cause and origin analysis and NFPA 921 standards application. In his most recent burn injury settlement, David Shoop obtained $3.5 million for his clients.
David Shoop has coordinated complex litigation across the country, including:
California
Oregon
Washington
Arizona
Texas
Arkansas
Oklahoma
Illinois
Michigan
Florida
New York
Representation You Can Count On
Mr. Shoop has significant experience in dealings with the United States Consumer Products Safety Commission (CPSC) and has regularly resolves scores of claims against medical device manufacturers for multiple millions of dollars. These claims typically involve implantable, Class III medical devices occurring subsequent to FDA recall. In addition to his product liability and medical device expertise, David Shoop has also obtained a $5,036,489.00 jury verdict against Peerless Insurance, a Liberty Mutual Company, for insurance bad faith. The verdict included an award of $3,500,000.00 in punitive damages as against Peerless Insurance for claims handling practices which the jury found to be in conscious disregard of the rights of its insured.
Mr. Shoop received his law degree from the Case Western Reserve University School of Law in Cleveland, Ohio, and additionally served on active duty in the United States Army in both Karlsruhe and Hanau Germany. Prior to forming Shoop | A Professional Law Corporation, David was a partner in the oldest law firm in Beverly Hills, California.
BAR ADMISSIONS:
California State Bar
United States District Court, Central District of California
United States District Court, Eastern District of California
United States District Court, Southern District of California
U.S. Court of Appeals, 9th Circuit
PROFESSIONAL ASSOCIATIONS AND MEMBERSHIPS:
State Bar of California
Los Angeles County Bar Association
Consumer Attorneys of Los Angeles
National Fire Protection Association ("NFPA")
SOCIAL AND LEGAL PROFILES:
Call us today. This is your firm.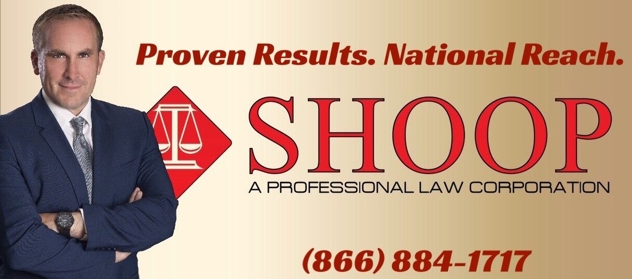 SHOOP | A PROFESSIONAL LAW CORPORATION
Defective Product Lawyers with a National Presence.
We Get Results. Period.