Don Liddy
Don Liddy is Counsel to the firm. He takes on tough cases on behalf of the victims of corporate negligence. Don has been trial counsel in personal injury cases for over twenty years. He has tried over sixty cases to jury verdict in a variety of jurisdictions. Don has obtained jury verdicts in multiple wrongful death cases, brain injury and other serious injury cases. He has been selected forSuper Lawyers® by his peers.
Don Liddy has obtained multi-million dollar verdicts and settlements for his clients:
Wrongful death against the State of California involving a dangerous road. Caltrans refuses to fix the road and the parents file a lawsuit. The Victorville jury awards $7,000,000 in wrongful death damages. Caltrans fixes the dangerous road immediately after the verdict.
A young man suffers a brain injury due to the negligence of a construction company and Caltrans. A Policy limits demand is refused. The case is tried in Independence California. The jury finds for the plaintiff resulting in $10,000,000 recovery - five times the amount of the policy limits.
The County of Palmdale and a negligent corporation cause a crash injuring a man and his family on their way home from church. After years of fighting and denying the case settles for over $13,000,000 during trial.
A large apartment building owner hires a convicted rapist as a maintenance man. When a young woman is abducted and killed the maintenance man is found with the victims jewelry. The defense offers nothing to settle before trial. The jury awards $12,000,000 to the family for their loss.
The nation's largest car rental company rents a recalled vehicle to two college students. The girls are killed when the car catches fire. After four years of litigation all over the country the company finally admits liability. The resulting recovery is over $15,000,000.
A retired Marine is injured by a negligent trucking company. The defense denies responsibility and offers nothing to settle. The San Pedro jury verdict totals over $1,000,000.
A 90 year old grandfather is killed by a negligent driver. The insurance company makes no offer to settle until just before trial. The jury awards over $1,300,000 - more than five times the offer.
A Simi Valley jury awards $1,500,000 to a family injured in a crash after the insurance company refuses to pay.
Don enjoys coaching his children's football and soccer teams. He likes hiking, reading and spending time with his wife and their three children.
Call us today. This is your firm.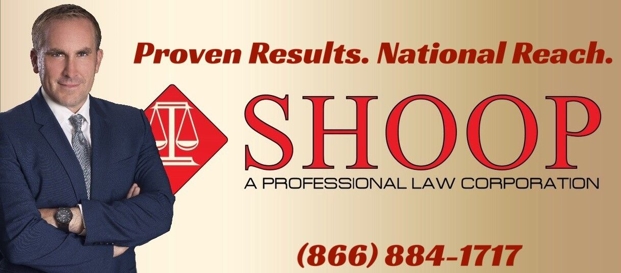 SHOOP | A PROFESSIONAL LAW CORPORATION
Defective Product Lawyers with a National Presence.
We Get Results. Period.