In July of 2011, just two (2) months before Cochlear, Ltd., issued a voluntary recall for the Nucleus CI500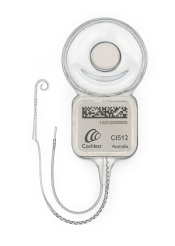 Range of cochlear implants, Cochlear Ltd., notified physicians in a Clinical Product Update that the ground electrodes in some Nucleus CI512 implants (claimed to be less than 0.3%) had open circuits. This product defect means that while the Nucleus has two electrodes, one of the electrodes was failing. Cochlear assured physicians that the primary purpose of having two electrodes was for redundancy, and that if the Monopolar 2 (MP2) ground electrode failed, that the default mode of stimulation for mapping would become Monopolar 1(MP1).
Cochlear also acknowledged that the intended stimulation mode for mapping was a combination of both electrodes MP1+MP2. Cochlear Ltd. indicated that a patient's hearing performance would not be affected if the MP2 ground electrode failed because of an open circuit. Cochlear Ltd., also stated that if a surgeon implanting the device identified through impedance testing that the MP2 electrode was open, that the surgeon should decide whether to use a different device.
However, Cochlear Ltd. did not state that the Nucleus CI512 was defective in manufacture or design. Instead, Cochlear Ltd. represented that it had identified the mechanism causing the open circuit in the MP2 ground electrode, and that it was putting in place processes to correct the defect. With regard to the use of the Nucleus CI500 Range, Cochlear stated that it would always support the surgeon's decision on whether to use the device. Moreover, Cochlear Ltd., Chief Executive, Chris Roberts, advised that the company was in no rush to conclude an investigation into the cause of these multiple, device failures, which reportedly relates to moisture in the devices that can cause a malfunction in one or more diodes. "Advice to clinics suggests that analysis of the moisture indicates that it is not related to body fluid," UBS analyst Andrew Goodall said. If this is indeed the cause, this would implicate an obvious flaw in the manufacturing process for which Cochlear Ltd. is strictly liable in tort.
By letter of September 16, 2011, Cochlear Americas, Inc., sent its users an "Urgent Medical Device Recall" for the Nucleus CI512. It is now being reported by the venerable newspaper, The Australian, that health care analysts at the global financial services firm, UBS, are predicting that the failure rate for the Nucleus CI512 is approaching 6%.
Cochlear Americas is sending letters to users of the device and the parents of minors who have a Nucleus CI512 that has failed, offering to work with the patient's insurance company to replace what would appear to be defective in both design and manufacture. Shoop | A Professional Law Corporation recommends that patients and parents of minors not release any of their rights to recovery for injuries sustained and financial losses, without first consulting an attorney who has substantial experience in the investigation of defective products, and litigating cases involving defective medical devices. If you or a family member has suffered a failure of the Cochlear Ltd., CI500 series implant, contact Shoop | A Professional Law Corporation today to speak with an experienced Los Angeles product liability attorney at (866) 884-1717.