This Wednesday, October 26, 2011, an electrical transformer suddenly exploded in Anaheim, California,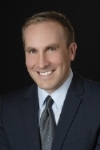 unfortunately burning three (3) utility workers and requiring their the hospitalization with extensive burn injuries to their torsos.
The workers were reportedly responsive following the 9:47 a.m. explosion. This transformer explosion took place in front of an apartment complex in the 2500 block of West Lincoln Avenue in Anaheim.
The workers were eventually transferred to UCI Medical Center in Westminster, said a spokeswoman for Anaheim Public Utilities.
Fortunately, the workers were wearing their protective gear, and fire officials are currently investigating the cause of this transformer explosion.
The city of Anaheim shut down the power on the 2500 block from Magnolia Avenue to Gain Street after the explosion as a precautionary measure.
Attorney David Shoop has prepared numerous presentations and lectures on NFPA 921 standards application and fire cause and origin analysis and has years of experience litigating fire-related damages cases. For serious burn injury and property damage cases, care should be taken to select an attorney that has extensive fire litigation experience to maximize your recovery.
From residential fire to commercial fire matters, you can trust the experience and expertise of the attorneys at SHOOP | A PROFESSIONAL LAW CORPORATION. Call us today for a free consultation at (866) 884-1717.