In our yearly quest to explore the world's most interesting mountains, we find ourselves in December of 2012 at the incredible Pão de Açúcar; a peak situated in Rio de Janeiro, Brazil, at the mouth of Guanabara Bay. This peninsula stretches into the Atlantic Ocean, with its summit situated 1,299 feet above the harbor.
As you recall, we explored the Matterhorn in picturesque Zermatt, Switzerland, in December 2011:
http://www.losangelesproductliabilityfirm.com/Blog/2011/December/ATTORNEY-DAVID-SHOOP-AT-THE-MATTERHORN.aspx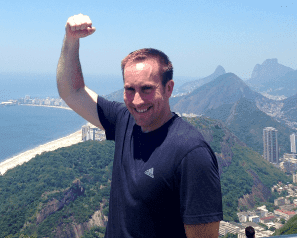 But back to the Pão de Açúcar - this mountain is one of several monolithic morros (hills) of granite and quartz that rise straight from the water's edge around Rio de Janeiro. It's name translates to "Sugar Loaf" and was coined in the 16th century by the Portuguese during the height of the sugar cane trade in Brazil.
As previously blogged, Los Angeles product liability attorney David Shoop successfully summited Mt. Kilimanjaro in Tanzania, Africa, in 2010.
Mt. Kilimanjaro, at 19,340 feet, is the highest point on the African continent and the highest, free-standing mountain in the world. You can read about that successful summit bid here:
http://www.losangelesproductliabilityfirm.com/Blog/2011/May/Attorney-David-Shoop-Summits-Mt-Kilimanjaro.aspx
Our next scheduled, high-altitude climb will be a summit attempt of Mt. Elbrus in 2013, the highest point on the European continent, followed by a climb of Mount Kosciuszko in January, 2014. Mount Kosciuszko is the highest mountain on the Australian continent. By January of 2014, we will have scaled three of the seven summits.
Attorney David Shoop, an outdoor enthusiast and Veteran of the United States Army, provides aggressive representation for all of his clients. If you or a loved one has been injured due to a defective product or any other injury, contact the lawyers at Shoop A Professional Law Corporation, toll free, at at (866) 884-1717 to discuss your legal rights.