The product liability attorneys at Shoop | A Professional Law Corporation represent individuals injured by E-cigarettes. These products have only been available in the United States since mid-2006. As such, there exists limited research on their various health risks. The U.S. Food and Drug Administration ("FDA") has determined that the tobacco solution used in e-cigarettes contains a toxic chemical found in antifreeze and several carcinogenic materials.
Moreover, among all alternative tobacco products, these various e-cigarettes are the least regulated, generally containing no warning labels and can be sold to people of any age group. A recent report from the federal government estimates that approximately two and a half million Americans used electronic cigarettes in the year 2011, alone.
It additionally appears that numerous of these E-cigarettes are manufactured in China.
FDA Warning Letter
Recently, on or about September 9, 2010, the FDA issued a press release underscoring that FDA had issued warning letters to five (5) E-cigarette distributors for various such violations of the FDCA, including unsubstantiated claims, poor manufacturing practices, and using the devices as delivery mechanisms for active pharmaceutical ingredients.
FDA concluded further that these various companies were and are subject to FDA regulation as the companies, themselves, claim and warrant that there exists sufficient evidence that the product aids users in quitting smoking cigarettes. According to the FDCA, manufacturers cannot represent that its drug(s) can treat or ameliorate disease unless that particular drug('s) safety and effectiveness are clinically proven.
For a drug to attain FDA approval, manufacturers must demonstrate and prove to FDA that the product is safe and effective for its intended use. The manufacturer must also establish that its manufacturing methods are adequate to preserve the strength, quality and purity of the product - or otherwise in conformity with current good manufacturing practices ("cGMPs").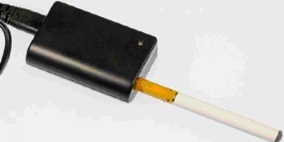 FDA has concluded additionally that such E-cigarette products addressed in the warning letters to the distributors, and similar products, are subject to FDA regulatory scheme as drugs, themselves. Under the FDCA, a company cannot claim that its drug can treat or mitigate a disease (e.g. ameliorating nicotine addiction) unless the drug's safety and effectiveness have been proven.
The various companies receiving these aforementioned, FDA warning letters were, as follows:
E-CigaretteDirect LLC
Ruyan America Inc.
Gamucci America (Smokey Bayou Inc.)
E-Cig Technology Inc.
Johnson's Creek Enterprises LLC
Additionally, some companies, above-listed, further received warning letters addressing alternate violations. For instance, FDA maintained that E-Cig Technology markets drugs in unapproved liquid forms, such as tadalafil, an erectile dysfunction drug, and rimonabant, a weight loss drug that has not been approved for use in the United States. These liquid pharmaceuticals are designed to refill cartridges used in e-cigarettes so that the drugs can be vaporized and inhaled.
FDA further cited Johnson Creek Enterprises, which sells "Smoke Juice," a liquid form solution utilized in refilling empty cartridges in E-cigarettes. Significant deficiencies in the manufacturing process were noted in the letter, including but not limited to failing to establish quality control ("QC") and test protocols as required pursuant to the FDCA.
For further information regarding FDA analysis of E-Cigarettes, you can find a link here:
http://www.fda.gov/NewsEvents/PublicHealthFocus/ucm172906.htm
E-Cigarette Injuries
Around February of 2012, a Florida man suffered severe burns, lost teeth and lost a section of of his tongue while an E-cigarette exploded in his mouth. This particular explosion was linked to a faulty battery. FDA investigators did not determine the brand of E-cigarette, but it was believed to be a rechargeable one.
The product defect attorneys at Shoop | A Professional Law Corporation continue to investigate and represent injured victims of E-cigarettes. If you or a loved one has been injured by these products, please call us today to discuss your legal rights. This is YOUR firm.
CALL US TODAY AT (866) 884-1717