The product liability lawyers at Shoop | A Professional Law Corporation are actively seeking and taking on cases involving Advanced Bionics HiRes90k Cochlear implants. No other law firm in the nation handles more such defective cochlear implant cases than we do.
Our law firm now has multiple, Advanced Bionics HiRes90k cases set for trial in Los Angeles County. Each of these cases will proceed to trial in just a few, short months and will be tried in succession.
A jury has previously found that Advanced Bionics knew for months that their Vendor B HiRes90k products were defective, but the company continued to ship these broken devices for more than a year before they were recalled, allowing them to be implanted in innocent recipients in complete disregard for their safety. Advanced Bionics sold defective implants to young children for years — even after learning that a significant number of the devices had failed, according to documents obtained by NBC News.
Moreover, an NBC News Investigation uncovered internal documents which show a disturbing timeline of events:
In January of 2003 - Advanced Bionics engineer warns that a key component of the implant "may be vulnerable for a potential leak."
In August of 2004 - FDA inspection finds 237 explanted devices with high levels of moisture.
In September of 2004 – The Advanced Bionics HiRes 90k is recalled due to "unexplained moisture" causing some implant failures.
In November of 2004 – Advanced Bionics HiRes 90k is returned to the market.
In February of 2005 - FDA sends a warning letter to Advanced Bionics.
In February of 2005 – Advanced Bionics company president states "product failures continue to occur at an alarming rate." He says the company is "in significant danger of losing all of our key accounts in NYC i.e. NYU and Beth Israel because of failed devices."
Summer 2005 – Advanced Bionics continues to receive reports of failed implants due to excessive moisture.
Despite all those warning signs, children still continued to receive implants throughout 2005 and into 2006, and Advanced Bionics failed to tell anyone that the company was selling the device with a different version of a key component than when it was originally approved by the FDA, which is a direct violation of federal regulatory law.
Please refer to the Today article which contains all of the above-referenced facts and timeline here:
https://www.today.com/health/defective-cochlear-implants-shocked-kids-even-though-company-had-been-2D79371793
Our law firm has been handling Advanced Bionics claims for years and we are very familiar with their defense strategy and litigation practices. This is invaluable during the course of the litigation process. We understand all too well the struggles our clients have endured to get their lives back on track after suffering a failure of their implant.
If you or a loved one suffered a failure of a cochlear implant, it is very important to contact our legal team immediately so that we may provide a FREE of cost, initial evaluation of your potential claim.
Shoop | A Professional Law Corporation
Defective Product Lawyers with a National Presence.
We Get Results. Period.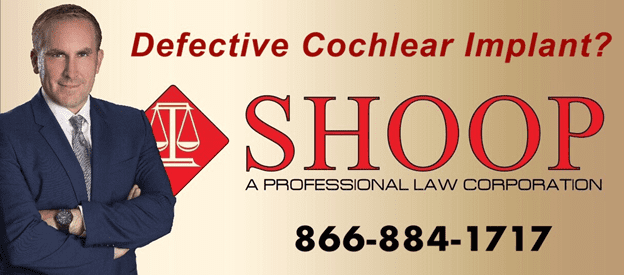 Call us today for a FREE consultation at (866) 884-1717