Thomas S. Alch
During the course of his legal career, Attorney Tom Alch has recovered in excess of $440 million for his clients, the majority of whom suffered catastrophic injuries as a result of negligence and corporate irresponsibility. Tom's clients and the victories he has achieved for them have been featured on various news outlets such as Fox, ABC and frequently in the Los Angeles Times. Tom has also been featured in several radio and magazine interviews.
Since 1997, Tom has represented plaintiffs who have suffered severe brain damage, amputations, cerebral palsy, paralysis, asphyxiation, brain trauma, loss of the ability to care for themselves and the death of family members. Tom has proven how these injuries could have and should have been prevented with proper care. Tom has spent countless hours with his clients in their homes, hospitals, rehabilitation centers and in therapy learning about their injuries and their needs and ensuring that they receive necessary care and proper financial compensation.
During the course of Tom's 28-year legal career, he has litigated cases involving a variety of medical devices, surgical instruments and other defective products. His unique experience and extensive medical knowledge are well-suited to the core, product liability and medical device practice at SHOOP | A PROFESSIONAL LAW CORPORATION. Tom has won cases involving defective medical beds causing asphyxia and brain damage, defective obstetrical vacuums causing severe brain hemorrhage, and defective surgical and medical devices causing catastrophic injury.
Mr. Alch has tried cases to winning verdicts, and has additionally won before the California Court of Appeals. There is no place he would rather be than in a courtroom. Tom is licensed to practice in California, Nevada and Arizona, and has won multimillion dollar recoveries for his clients in Washington where he has worked closely with local counsel.
Tom additionally investigates and litigates many consumer class action cases. These cases include medical devices, cosmetic products, falsely advertised "natural products," product recalls, and false advertising cases.
AREAS OF PRACTICE
Product Liability
Catastrophic Personal Injury
Paralysis And Quadriplegia
Wrongful Death
Class Actions
Defective Medical Devices
Recalled Medical Devices
Recalled Consumer Products
Child Safety
Cerebral Palsy
Industrial Machinery
Medical And Professional Malpractice
EDUCATION
Loyola School Of Law, Los Angeles, Ca, J.D., 1988
University Of California, Los Angeles, B.A., 1985
BAR ADMISSIONS
California, 1988
Nevada, 1999
Arizona, 2010
U.S. District Court, Central District of California
U.S. District Court, Southern District of California
PROFESSIONAL ORGANIZATIONS
Consumer Attorneys of California
Consumer Attorneys of Los Angeles
Nevada Justice Association
Call us today. This is your firm.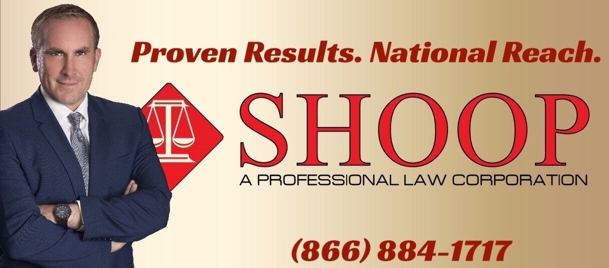 SHOOP | A PROFESSIONAL LAW CORPORATION
Defective Product Lawyers with a National Presence.
We Get Results. Period.