The product liability lawyers at Shoop | A Professional Law Corporation continue to evaluate and take on claims involving the recalled, Cochlear Nucleus CI512 implant. No other law firm in the nation handles more defective, cochlear implant claims than we do. Let us put our knowledge and experience to work for you if you or a family member have suffered a failure of a CI512 implant. Call us today for a FREE consultation to determine if you are eligible to recover for the harm and loss associated with a cochlear implant failure and subsequent revision surgery.
On September 16, 2011, Cochlear initiated a Class 2 Device recall involving its Cochlear Nucleus CI512. The reason the manufacturer provided to FDA for the recall was that the cochlear implant "may shut down and cease to function." In reality, there were undetermined issues associated with the brazing process during product manufacturing wherein microcracks were forming and allowing moisture to penetrate the implants. In other words, the implants were failing to achieve a hermetic seal. As such, moisture and saline from the inner ear environment was entering the implants and causing them to shut down.
Cochlear Americas, Inc. finally sent an "URGENT MEDICAL DEVICE RECALL." This letter, dated September 16, 2011, instructed customers to examine their inventory and "quarantine the affected product."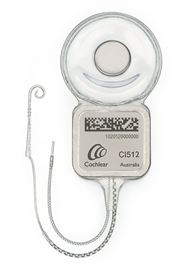 If your device has been recently explanted, protocols regarding the testing of the device must be agreed to by the attorneys so that testing does not alter or change the nature and quality of the evidence or otherwise destroy the evidence. It is important to retain our firm of experienced, product liability lawyer to ensure all of the evidence is appropriately preserved, and that mutually-approved test protocols are put in place for device testing and post-test analysis. 
Typically, recipients of defective, Nucleus 512 implants will experience an intermittency of device functionality prior to their cochlear implant failing entirely. At the point of intermittent functionality, it is best to have your audiologist trouble shoot the device and confirm, conclusively, whether the device has experienced a hard failure.  Typically, Cochlear will have an on-call audiologist administer an "Integrity Test Report" to determine the reason the processor is no longer communicating with the implant. 
At this point - after such time that the device has been confirmed a failed device by way of the aforementioned, diagnostic testing - it is best to contact us.  Again, no other law firm in the nation handles more defective cochlear implant claims than we do, and we have successfully resolved claims across the United States as well as Canada.
The product liability lawyers at Shoop | A Professional Law Corporation represent clients nationally and internationally with regard to failed and defective medical devices.  No other law firm has the breadth of experience that we do regarding defective cochlear implants and we will fight to ensure you receive maximum compensation for your injuries.
Shoop | A Professional Law Corporation
Defective Product Lawyers with a National Presence. 
We Get Results. Period.
Contact us today for a FREE consultation at (866) 884-1717