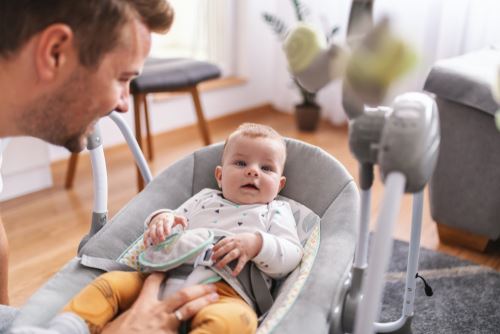 The products that have been recalled are the RockaRoo Baby Rockers and the 4moms MamaRoo Baby Swing, versions 1.0 to 4.0.
The dangers involve the restraint straps on the products, which can hang down from the seats. As a result, while the rocker or swing is not being used, an infant that crawls can become tangled up in the straps, which creates a potential for strangulation and entanglement.
There are over 200,000 RockaRoo rockers and 2,000,000 MamaRoo swings. Also, approximately 10,000 RockaRoo rockers and 60,000 MamaRoo swings were purchased in Canada.
The MamaRoo baby swing has various speeds, motions and sounds, which are controlled by buttons. On the bottom of the swing is where you will find the model number. It is the MamaRoo models that use a 3-point harness: versions 1.0 and 2.0 (model number 4M-005), version 3.0 (model number 1026), and version 4.0 (model number 1037) that have been recalled. The recall number is 22-200.
There is a model that utilizes a 5-point harness, which is not part of this recall.
There have been two reports involving infants who had become entangled in the straps, which drape from a MamaRoo swing, as the infants crawled under the seat of the swing. Tragically, a 10-month-old child died from asphyxiation. Another 10-month-old child suffered a bruised neck as the result of entanglement from the strap from the MamaRoo infant swing, which were not being used at the time.
The RockaRoo baby rocker moves from front to back. There is a power button and knob that controls the motion of the rocker. The model number of the RockaRoo baby rocker, which is the subject of this recall, is 4M-012. This number can be found at the bottom of the rocker.
The recall of these rockers and swings was announced by the United States Consumer Product Safety Commission (CPSC) and by Thorley Industries, LLC, d.b.a. 4moms, of Pittsburgh, Pennsylvania.
Target stores and BuyBuy Baby sold the MamaRoo swing and the RockaRoo baby rocker. These products were also available for purchase online from Amazon and 4moms.com during the timeframe of January 2010 and August 2022. The cost of these products ranged from $160 and $250.
Parents with infants that can crawl and with toddlers should stop using the MamaRoo swing and RockaRoo baby rocker. The products should be stored in a space that cannot be accessed by a toddler and infant that can crawl. Consumers can contact 4moms to request a strap fastener that is to be used to secure the straps and prevent them from dangling from the rockers and swings.
The product liability attorneys at Shoop | A Professional Law Corporation are ready to assist individuals and families that have been injured and have suffered as the result of a defective product. If your child has been injured by a rocker, or a swing, or by any other defective product, contact us immediately to see if you can file a claim or complaint for compensation.
The attorneys at Shoop A | Professional Law Corporation have successfully resolved numerous cases and claims involving defective products. We are experienced and knowledgeable in dealing with the manufacturers, distributors and suppliers of defective products and in recovering for our clients after devastating injuries and even death.
You can count on our Los Angeles product liability attorneys to help you move forward and pursue the compensation you need. For more information, you can click here to visit the CPSC website page regarding this recall.
Call the product liability attorneys at Shoop | A Professional Law Corporation at 866.884.1717 if your infant or toddler has been injured by a rocker or a swing or other defective product for a free and confidential case evaluation. We are the recall product attorneys.
Shoop | A Professional Law Corporation
Defective Product Lawyers with a National Presence.
Pursuing Recovery for Injuries as a Result of Recalled Products.
We Get Results. Period.