The product liability lawyers at SHOOP | A PROFESSIONAL LAW CORPORATION again remind the public of an important product recall in conjunction and cooperation with the United States Consumer Product Safety Commission ("CPSC") involving Halo children's projector flashlights. The recall was initiated as a result of potential battery ingestion and associated choking hazards. It was determined that a child can disassemble these projector flashlights and access the button cell batteries within the subject product, thereby posing an unacceptable risk of ingestion and choking hazards.
These projector flashlights were recalled in conjunction with CPSC on December 01, 2021 and involve roughly 82,500 units in distribution. Specifically, this recall involves five (5) different models of children's projector flashlights: Disney, Pixar, Star Wars, Avengers and ESPN. These units contain a key chain at one end of the unit and a projector flashlight on the other side. The product identifiers include the model name inscribed on the middle of these flashlights. These individual flashlights come in dark blue, light blue or red and measure approximately three (3) inches long and 1/2 inch in diameter. Lastly, there are four button cell batteries with model number LR41 located within the flashlight.
CPSC recommends that consumers immediately take away these recalled projector flashlights from the reach of children and immediately cease use of the subjects product. As of the date of recall, the firm had received two (2) reports from the field of children gaining access to the button cell batteries from the product, and in one case, a young child required a surgical procedure to remove the ingested battery.
By way of background to these potential types of ingestion hazards, button batteries are a hazard to young children in particular. When loose, these batteries may be mouthed and swallowed by young children as if they were something that could be consumed. When ingested, they can become a foreign object in the body. Reports from the National Capital Poison Center suggest that about 3,500 people per year and of all ages swallow these batteries, with children the predominant concern (Centers for Disease Control, 2012). Fortunately, most button batteries pass through the digestive system and intestines and are eliminated in the stool. However, sometimes batteries get caught in the esophagus area of the throat. Tissue damage occurs when an electrical current forms and generates hydroxide (an alkaline chemical) and then causes serious tissue burn, often to the extent that holes can develop in the esophagus area (Consumer Reports News, 2011). These holes are called tracheoesophageal fistula (TEF). These are most serious when ingested by young children who cannot express the cause or location of their discomfort. As a result, ensuing bodily damage can progress out of control. Neither standards nor manufacturers have established design features that reduce the likelihood of child ingestion events happening with devices such as remote controls for TV and video games. There are such standards for children's toys containing batteries. Section 106 of the Consumer Product Safety Improvement Act of 2008, the American Society for Testing and Materials (ASTM) international voluntary standard for toy safety, known as F963-11, became mandatory. ASTM F963-11 requires that batteries be inaccessible (e.g., secured in compartments with screws) in all toys intended for children aged less than years, and in all toys using batteries that fit within the small parts test cylinder for children aged less than 12 years.
The product liability lawyers at SHOOP | A PROFESSIONAL LAW CORPORATION represent consumers nationally who have suffered a catastrophic injury as a result of use or interaction with defective or recalled products and have investigated countless cases of product defect.
SHOOP | A PROFESSIONAL LAW CORPORATION
Product Liability Lawyers with a National Presence.
We Get Results. Period.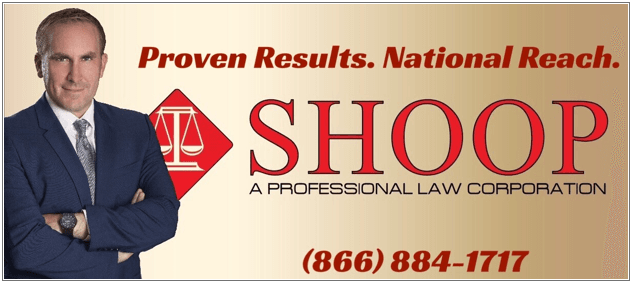 Call us today for a FREE consultation at 866.884.1717