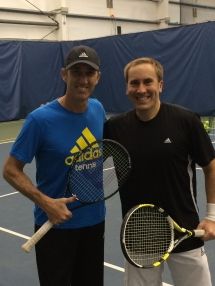 My friend Darren Cahill, a world class tennis coach and ESPN commentator, has launched a fantastic new website that caters to all levels of tennis players and delivers the same, high-quality instruction on which the top ATP and WTA players rely. I recently had the opportunity to hit with Darren in Las Vegas, Nevada (where he's based) and it was, quite simply, an unforgettable tennis experience.
Before I talk more about my hit with Darren, a brief background on the coaches and what their website can bring to your game are in order. The site was was developed by Darren Cahill, Roger Rasheed, Brad Gilbert and Paul Annacone, a collection of some of the finest tennis coaches in the world.
DARREN CAHILL is a former ATP tour player and 1988 U.S. Open semi-finalist (having thrashed Boris Becker in straight sets en route to the semis). Darren won three ATP titles in his career and achieved a world-ranking of 22 in 1989. Darren's coaching resume includes multiple, grand slam winners and world number 1's, Andre Agassi and Lleyton Hewitt, as well as Fernando Verdasco and Ernests Gulbis, Daniela Hantuchova and Sorana Cirstea.
ROGER RASHEED is a former ATP tour player (Top 200) with the distinction of having been the youngest player in history to qualify for the Australian Open. Roger has similarly coached Lleyton Hewitt, as well as Jo-Wilfried Tsonga and Gael Monfils. He now coaches Grigor Dimitrov, the current, world number 23 and leader of the crop of the young, ATP superstars.
BRAD GILBERT is a former ATP pro and world number 4. His stellar resume boasts 20 singles titles, three doubles titles, and wins over Sampras, Becker, McEnroe, Connors, Wilander and Edberg. Brad is also an ESPN commentator and best-selling author of "Winning Ugly." Brad has coached grand slam winners and world number 1's, Andre Agassi and Andy Roddick, and he has has also coached Andy Murray and Kei Nishikori.
PAUL ANNACONE is a former ATP world number 12, winner of three singles and fourteen doubles titles on tour. He is an Australian Open Doubles Champion and U.S. Open Doubles Finalist. Paul's coaching resume includes legends Pete Sampras and Roger Federer, and he has additionally coached Tim Henman. Paul has served as the Lawn Tennis Association's Head Coach of Men's Tennis and Great Britain Davis Cup coach.
Without question, their website gives all levels of players access to legendary coaches in a variety of capacities, including Skype sessions offering personal match and set analysis, side-by-side comparison to professional strokes and shot-making, as well as online video upload access. The site also offers personal stroke analysis during the course of a Skype session with Darren, Roger, Brad or Paul. The website lastly offers a wide variety of tips and lessons from the pros themselves.
For tennis fanatics like myself, a training session with Darren was like living a day on tour. And let me say this - when you train with Darren - you will train. You will run. You will work. You will learn. We worked on numerous drills throughout the day and focused not only on technique, but strategy. Spending a day talking tennis with Darren and you will learn how the pros are taught to construct points. You think about how to maximize your game. I left tired and sore, but I left a better tennis player. I couldn't recommend more strongly visiting the site, becoming a member and booking a hit with one of these legendary coaches. With Darren Cahill, you get the highest quality instruction and the highest quality person. It's an unforgettable experience that should be on every tennis fan's bucket list.