The product liability lawyers at Shoop | A Professional Law Corporation write to remind consumers about an important safety warning issued by the United States Consumer Product Safety Commission (CPSC) involving the Peloton Tread+ exercise machine. According to the CPSC, its new warning concerns dangers of the popular Peloton Tread+ exercise machine subsequent to reported incidents of a young child and a pet suffering injury underneath these machines. Amid investigations, it has determined that public health and safety necessitated an expeditious warning to the public of the hazard.
Per the CPSC website, the urgent warning was issued approximately a month after Peloton disclosed the heartbreaking news of a child's death by way of a Peloton Tread+ and CPSC's independent investigation of that particular incident. CPSC made clear that its investigation into all known incidents of injury or death related to the Peloton Tread+ is ongoing: It is now aware of 39 incidents as of April 21, 2021, including one death.
Due to the various reports of incidents of children becoming trapped or otherwise pinned and pulled under the rear roller of the product, the commission has urged consumers with young children at home to cease the use of this product immediately. What's more, CPSC further stated on its website that it believes that at least one incident occurred while someone was using the treadmill, which suggested that the product hazard "cannot be avoided simply by locking the device when not in use." Therefore, the commission has gone on record as stating that its staff is of the opinion that "the Peloton Tread+ poses serious risks to children for abrasions, fractures, and death."
In its press release and warning, CPSC included the following suggestions for consumer reference:
Do not use the Peloton Tread+ if there are small children or pets at home, as incidents suggest they may be severely injured while the Tread+ is in use, not only when they have unsupervised access to the exercise machine.
If you must continue to use the Tread+, CPSC urges consumers to only do so in a locked room as to prevent access to children and pets. Keep all objects, such as exercise balls, away from the machine.
Unplug the Tread+ when not in use, and make sure to store the safety key away from the device — and out of reach of children.
In the interest of public safety, please report any Peloton Tread+ incidents to CPSC at www.SaferProducts.gov or to its hotline at 800-638-2772.
Please note: The subject Model No. TR-01 was referred to as "Tread" from August 2018 to September 2020, at which time it was subsequently renamed "Tread+."
Lastly, CPSC made clear that, pursuant to section 6(b) of the Consumer Product Safety Act (CPSA), the CPSC is required to include with its warning and press release "any comments or other information or a summary thereof." Accordingly, the CPSC included in its press release and warning the following statement from the company:
The Consumer Product Safety Commission's unilateral press release about the Peloton Tread+ treadmill is inaccurate and misleading. The Tread+ is safe for Members to use in their homes and comes with safety instructions and warnings to ensure its safe use. Like all motorized exercise equipment, the Tread+ can pose hazards if the warnings and safety instructions are not followed. The Tread+ is not for children under 16. Peloton warns Members not to let children use the Tread+ and to keep children, pets, and objects away from the Tread+ at all times. Any owner of a treadmill – whether made by Peloton or not – should follow these warnings, as they are included in the applicable safety standards, which the Peloton Tread+ meets.
About Our National Firm
At Shoop | A Professional Law Corporation, our national lawyers represent consumers who have suffered catastrophic injury as a result of use or interaction with defective or recalled products and have investigated countless cases of product defects. If you or loved one has suffered such an injury, give the experienced attorneys in our office a call today at (866) 884-1717 for a free consultation.
SHOOP | A PROFESSIONAL LAW CORPORATION
Product Liability Lawyers with a National Presence.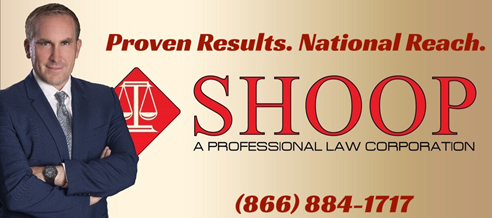 We Get Results. Period.
Call us today for a FREE consultation at 866.884.1717