Individuals with severe hearing loss who are not eligible for hearing aids may benefit from cochlear implants. These medical devices are surgically implanted in the patient's mastoid bone of the skull and directly stimulate the auditory nerve.
Benefits of Cochlear Implants
Unfortunately, cochlear implants are not a cure for hearing loss. They can, however, offer a new way for people who have severe hearing loss to have a better quality of life through improved communication. Typical benefits of cochlear devices include:
Ability to understand speech without visual cues like lip reading
Being able to identify where sounds are coming from
Their ability to enjoy television and music
Recognition of everyday environmental sounds
Ability to listen in noisier environments
The benefits a patient might experience after receiving their implant can depend on various things. These include:
How old they were at the time of implantation
The degree of hearing loss before implantation
If they have prior hearing aid history
How much access they had to sound during the critical language learning period (5 years old)
How long they have experienced hearing loss
Their commitment to improving their hearing, along with the support of their family
The status of the inner ear and hearing nerve
Is a Cochlear Implant Right For Me?
Deciding whether a cochlear implant is the right decision can be challenging. Like all medical procedures, you must be aware of all risks and recovery associated. To be eligible for a cochlear implant, you must:
Meet with a cochlear implant specialist. This could be an audiologist, speech-language pathologist, or ENT surgeon.
Have physical exams and hearing tests to examine your hearing loss
Meet with a counselor
Undergo imaging tests that allow medical professionals to look at the structure of your ear. These could be X-rays and/or MRIs
We Can Help
If you or someone you know has a recalled, defective or malfunctioning cochlear implant, we may be able to help obtain compensation. The product liability lawyers at SHOOP | A PROFESSIONAL LAW CORPORATION represent clients nationally and internationally with regard to failed and defective medical devices. We have resolved all manner of cochlear implant claims, and we understand all too well the struggles our clients have endured to get their lives back on track after suffering a failure of their implant. No other law firm has the breadth of experience that we do regarding defective cochlear implants and we will fight to ensure you receive maximum compensation for your injuries.
SHOOP | A PROFESSIONAL LAW CORPORATION
Defective Product Lawyers with a National Presence.
We Get Results. Period.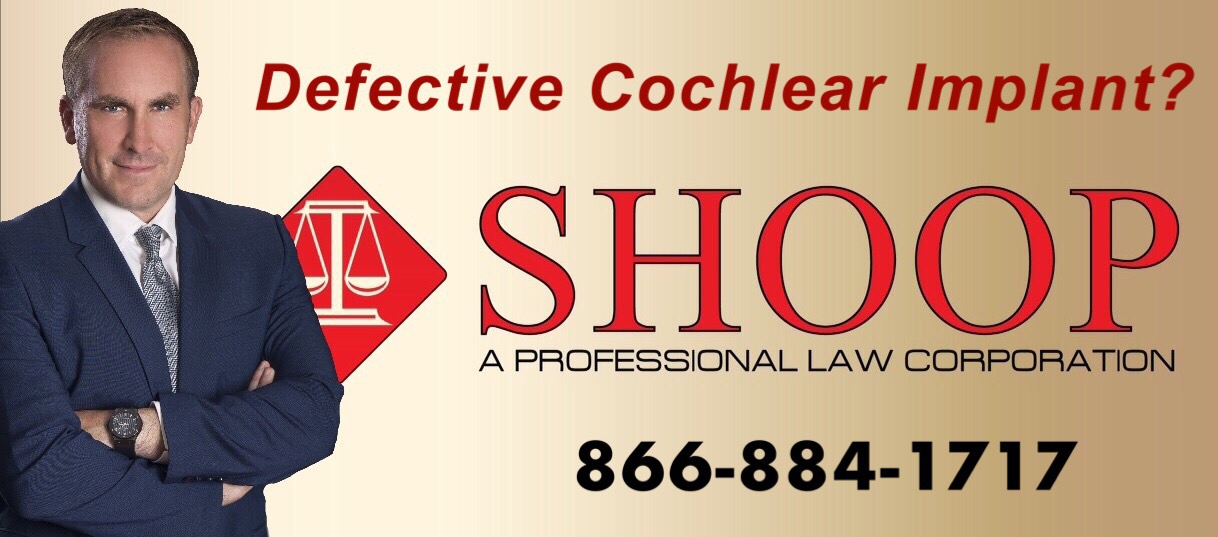 ​

Call us today for a FREE consultation at (866) 884-1717