ADVANCED BIONICS NEGLIGENCE
The product liability lawyers at Shoop | A Professional Law Corporation continue to investigate allegations of corporate negligence on the part of Advanced Bionics LLC and take on additional matters related to the Advanced Bionics HiRes90k cochlear implant. No law firm in the nation handles more defective cochlear implant claims than we do. Please allow us to put our knowledge and experience to work for you.
THE IMPLANT
The Advanced Bionics Hires90k cochlear implant has been recalled on numerous occasions, one of the more recent of which occurred on November 23, 2010 and assigned Recall Number Z-0796-2011. Advanced Bionics forwarded a Press Release on or about November 23, 2010 to Business Wire News Trak and Advanced Bionics also sent patient letters by way of FedEx beginning Monday November 29th to approximately ten thousand (10,000) patients. The notifications discussed the reasons for the recall, the products affected by the recall and additionally the potential hazards associated with the implant.
The Health Care Provider letter also requested providers with recipient under their care who reports pain, overly loud sounds, or sudden shock sensations while the implant is powered to follow these steps:
1. Advise them to remove the external equipment immediately,
2. Schedule an appointment to complete standard troubleshooting steps listed in the Advanced Bionics Sound Processor User Guide,
3. Contacting Advanced Bionics audiologists for additional troubleshooting that may assist in determining the presence of recall problem,
4. If the device has failed, device explant and replacement is advised by Advanced Bionics.
THE SHOOP | APLC DIFFERENCE
Our lawyers have been litigating product liability cases throughout the country for over 35 years. You will not find a team of experienced product liability lawyers who genuinely care about their clients as we do - and we have secured numerous multi-million dollar verdicts and settlements at trial. Our results speak for themselves.
Additionally, no other law firm in the nation handles more Cochlear implant defect cases than we do - experience matters. We have been handling Advanced Bionics claims for years and we are very familiar with their defense strategy and practices. This is invaluable during the course of the litigation process. We have resolved all manner of HiRes90k claims, and we understand all too well the struggles our clients have endured to get their lives back on track after suffering a failure of their implant.
WHAT SHOULD I DO IF MY HIRES90K DEVICE FAILS?
You may have received a letter from Advanced Bionics notifying you that the implant you or a loved one received contains a component called a feed-thru device which was manufactured by a "Vendor B" (an unapproved, device-component supplier). The components manufactured by this supplier have failed at an alarming rate due to excess moisture, amongst other issues in our experience with this component, some feed-thrus have separated entirely from the unit, causing catastrophic failure. It is very important if you are a Vendor B recipient NOT to sign a release with Advanced Bionics in exchange for nominal reimbursement. This could potentially affect your legal rights to recover additional sums in a lawsuit or settlement with the company.
If you or a loved one suffered a failure of a HiRes90k implant, it is very important to contact our legal team immediately so that we may provide a FREE of cost case evaluation and initial discussion of your potential case.
Shoop | A Professional Law Corporation
Defective Product Lawyers with a National Presence.
We Get Results. Period.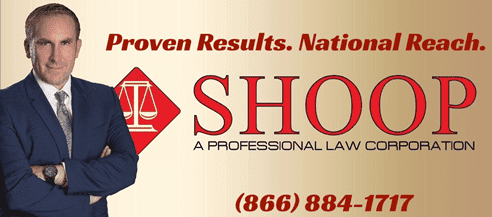 Call us today for a FREE consultation at 866.884.1717