The product liability lawyers at Shoop | A Professional Law Corporation are the preeminent residential fire and burn injury law firm in California and we are some of the most experienced fire and casualty litigators in the nation.
In the countless fire cases we have been involved in and the scores of fire scenes we have processed, there is always one constant - and it's our number one rule - get to the fire scene as soon as you have notice. Immediately after the fire department's fire suppression activities, there is a wealth of information and evidence that must be processed, photographed and preserved. This needs to happen immediately - and it is critically important to have the foremost cause and origin and engineering experts guiding your forensic investigation. You are only as good as the team you assemble - and your engineering experts should ideally have cause and origin certification (or at least training), because the interplay between the engineering and the C&O folks in the investigatory process should be seamless.
As if that weren't enough, there additionally exist both evidentiary rules and accepted standards for the investigatory process and the rendering of accurate opinions as to fire origin and cause of which the handling attorney should have thorough knowledge. We have been investigating fire scenes in California - and throughout the U.S. - for nearly two decades. Attorney David Shoop has handled fire and burn injury matters ranging from 3rd degree burn injuries to mass fatality cases. The purpose of this article is to expand on fire scene investigation generally, while at the same time outlining our four, "golden rules" of litigating fire and casualty cases.
RULE #1. IT IS OF THE UTMOST IMPORTANCE TO RETAIN A LAW FIRM THAT HAS SIGNIFICANT EXPERIENCE HANDLING FIRE AND BURN INJURY CASES.
This we cannot stress enough. Examining and processing a fire scene is one of the most daunting and complex challenges an attorney can face. There is no substitute for experience here - from the proper running of the scene investigation, to the assembly of the best technical team, to understanding the engineering concepts and evidence preservation - this is all about experience. An inexperienced attorney can quickly derail a forensic investigation. You need to pick the right horse out of the gate as burn patterns can be missed and key evidence may not be identified or preserved. Every fire scene is different. Every fire scene is dynamic. Experience matters.
Also, the National Fire Protection Association ("NFPA") sets forth standards for forensic investigations of fires and explosions, called NFPA 921. This sets the standard for peer-reviewed, science-based analysis of fires and explosions. We use these standards during the course of our field work, in training, lectures, seminars, and in court. NFPA 921 is the definitive guide for rendering accurate cause and origin opinions and we refer to and observe these standards - as do fire investigators, experts and insurance company representatives for litigation purposes. It is of critical importance to have a thorough knowledge of NFPA 921.
The burn injury attorneys at Shoop | A Professional Law Corporation have prepared numerous lectures to attorneys on NFPA 921 standards application and are members of the Research Section of the National Fire Protection Association.
Although it is not always the case, the lawyers from the defense side are generally very experienced counsel who understand NFPA 921 standards and are quite good at what they do. This is all the more reason to have the most experienced firm at your side from the very beginning of the case.
RULE #2. GET TO THE FIRE SCENE ASAP
If you have retained an experienced burn injury law firm, the very first thing they will want to do is assemble their team and get out to the fire scene immediately. This brings me to a word about our firefighters. They are some of the first professionals with whom you will speak about cause and origin. And remember this - our firefighters are indeed heroic - and their first duties and obligations are to preserve life and suppress the subject fire. Sometimes, unfortunately, the fire suppression activities can have devastating effects on the fire scene generally and cause and origin analysis, specifically. Fire and burn patterns can be compromised, evidence can be disturbed, and a host of other issues attendant to suppression activities can present a challenge to your team's forensic investigation.
This is precisely why you need to be out there as soon as practicable. You need to speak with the investigating fire personnel. You need to know what difficulties and challenges they faced when they were extinguishing the fire. You need to know what their preliminary opinions are with regard to the area of origin of the fire. You need to get the report they generate as soon as it's available. Sometimes the fire department will not know the origin of the fire. And if they don't know the area of origin - they will not know the cause of the fire. Oftentimes fire departments (particularly those in smaller communities) lack the technical capacity and expertise to perform an exhaustive and comprehensive fire investigation into the cause of the fire. Oftentimes the fire is classified as "undetermined." This is where it is very important to secure the photographs that the fire department has taken immediately after their suppression activities because they often serve as the best documentation of where the furniture was located in a residential fire and what surrounding, electronic evidentiary items were within the area of origin. They also serve to document their post-fire condition. This takes us to Rule #3.
Rule #3. PHOTOGRAPH IT, BAG IT AND TAG IT
As lawyers, we often talk about the "evanescence" of the evidence. This is a legalistic way of saying that evidence can change or disappear quickly and this particularly holds true in a fire scene. Evidence is charred and in pieces. Evidence gets lost. Evidence gets moved. Evidence gets thrown away because some attorneys lack an understanding of its significance. Remember also that everyone will be crawling around a fire scene. Fire Department personnel. Insurance adjusters. Forensic experts. Lawyers. You name it - they'll be there - disturbing your scene.
With every inspection the nature and quality of the evidence can diminish or disappear. This is precisely why evidence preservation and scene processing - consistent with NFPA 921 standards application - is so critical to cause and origin investigation.
Lastly, everything within the area of origin that has the potential or capability of being energized must be preserved and examined by qualified experts in a laboratory setting. Failure to preserve key evidentiary items can have devastating effects on your ability to prove your case.
#4. GOOD INTERACTION AT THE FIRE SCENE IS KEY
Lastly, cooperation is key at the scene. You are all trying to figure out what caused the fire. This is not a guessing game - the investigation is predicated on science-based methodologies and standards for collecting the evidence as well as the failure analysis of the evidence. Talk to the Fire Department. Talk to opposing counsel. Have your experts illuminate the other side's experts as to their findings. Real fire investigators and retained experts are not in the practice of "hiding the ball." I always know when I'm up against a lesser forensic expert - as they are always reluctant to share their findings and work cooperatively. Remember - everyone is there to get to the truth and this is a scientific investigation.
These are some of my observations over the past decades litigating fire and casualty cases and processing fire scenes in California and across the nation. The attorneys at Shoop | A Professional Law Corporation have handled all manner of fire cases - from 3rd degree burn injuries to mass fatality cases. There is simply no substitute for experience. If you or a family member have suffered a burn injury in a fire, don't delay. Call us today for a free consultation.
Shoop | A Professional Law Corporation
Defective Product Lawyers with a National Presence.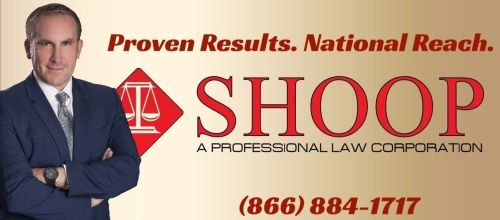 We Get Results. Period.